December 2015 — January 2016
Lawrence Weiner, born in 1942 in Bronxu (New York) is a representative of American conceptualism.

His work is based on a linguistic message in the form of texts, citations and analytical argument. In the early sixties, he started his artistic work as a painting, continued with the works of processual art, textual works, posters, art books, textual installations, scenographies and film.

He is famous for his 'Declaration of Intent' from 1968:
1. The artist may construct the piece.
2. The piece may be fabricated.
3. The piece need not be built.
Each being equal and consistent with the intent of the artist the decision as to condition rests with receiver upon the occasion of receivership.

The work of Lawrenc Weiner »SOME SAND + SOME HEAT« from 2000 stands on the south facade of the Museum of Contemporary Art Metelkova (MSUM), which was first exhibited in the context of the Arteast 2000+ Collection.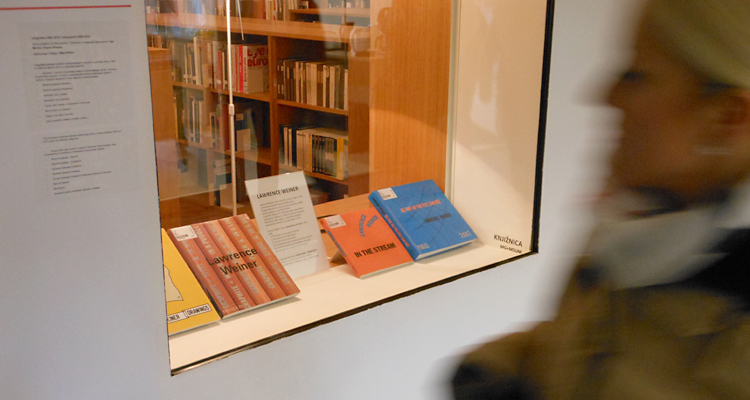 Photo: Zmago Rus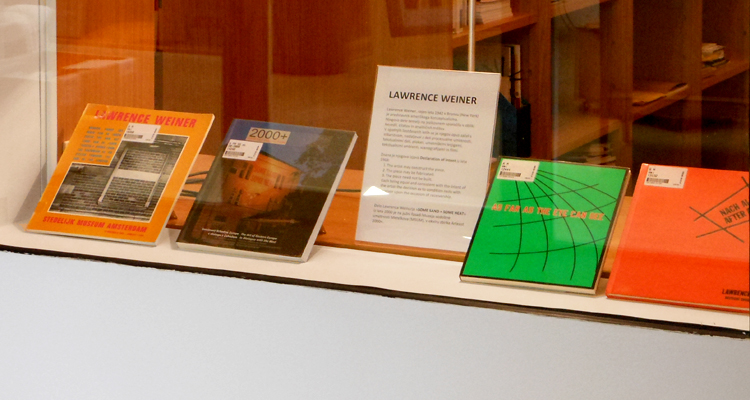 Photo: Zmago Rus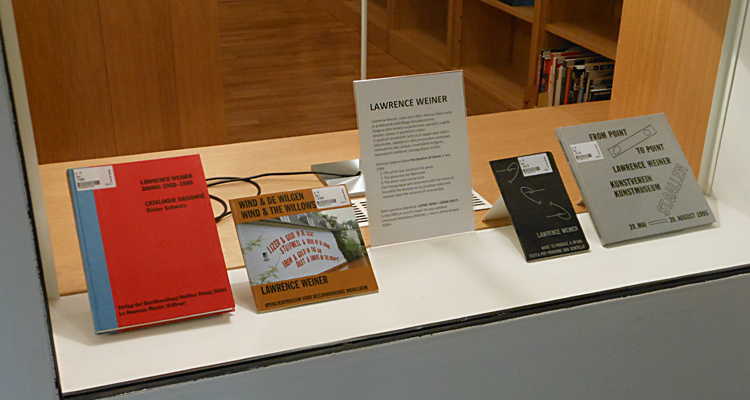 Photo: Zmago Rus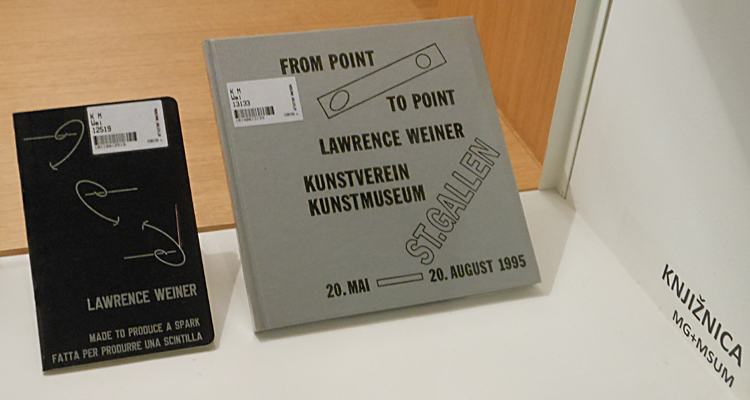 Photo: Zmago Rus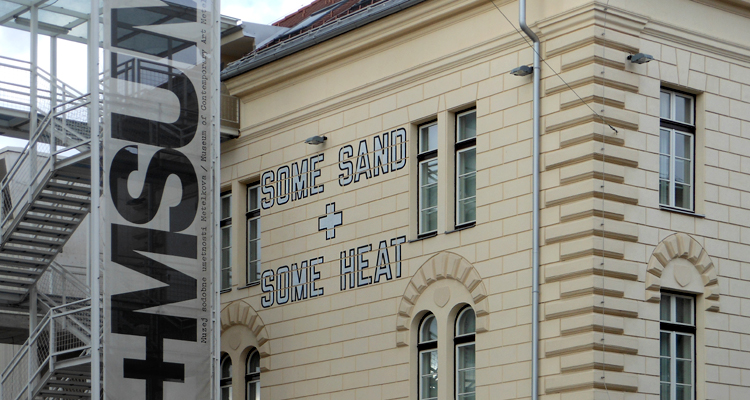 Photo: Zmago Rus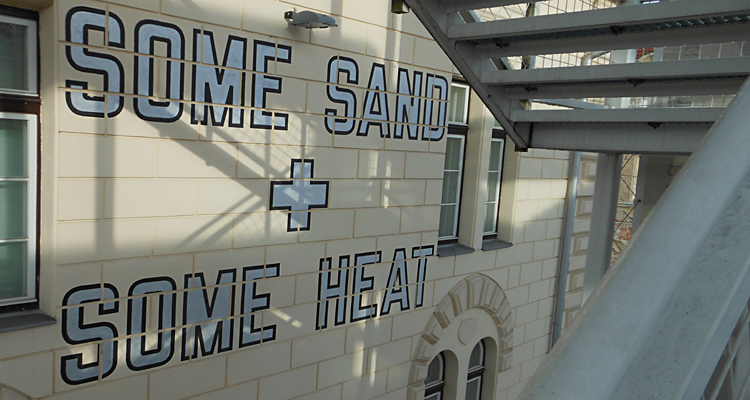 Photo: Zmago Rus
Publications by Lawrenca Weinerjaavailable at the MG+MSUM Library:
1. WEINER, Lawrence
Lawrence Weiner : werken vanaf het begin van de jaren zestig tot aan het einde van de jaren tachtig = works from the beginning of the sixties towards the end of the eighties : Stedelijk Museum Amsterdam, 19 November 1988-January 1, 1989 / [edited by Marja Bloem ; essays by Anne Rorimer ... et al.]. - Amsterdam : Stedelijk Museum, 1988. - 71 str. : ilustr. ; 28 cm
Ov. nasl. - Vzpor. niz. in angl. besedilo. - Bibliografija: str. 67-70
ISBN 90-5006-024-3 !
7.038.54(73):929Weiner L.
COBISS.SI-ID 788719
2. WEINER, Lawrence
Lawrence Weiner : books 1968-1989 : catalogue raisonné / [essay by] Dieter Schwarz. - Köln : König ; Villeurbanne : Le Nouveau Musée, 1989. - 205 str. : ilustr. ; 29 cm
Vzpor. besedilo v angl., franc. in nem. - Bibliografija: str. 199-205
ISBN 3-88375-111-1
7.038.54(73):929Weiner L.
COBISS.SI-ID 663791
3. WEINER, Lawrence
From point to point = Von Punkt zu Punkt / Lawrence Weiner ; [Konzeption der Ausstellung und des Kataloges, Lawrence Weiner, Roland Wäspe, Konrad Bitterli]. - Stuttgart : Oktagon, 1995. - 65 str. : ilustr. ; 26 cm
Besedilo v angl. in nem. - "Catalogue of an exhibition held at Kunstverein St. Gallen, 20 May - 20 August 1995"--> v kolofonu
ISBN 3-927789-54-2
7.038.54(73):929Weiner L.
COBISS.SI-ID 663535
4. WEINER, Lawrence
Lawrence Weiner : obras : en la corriente = in the stream / [comisario Bartomeu Marí]. - Valencia : IVAM Centre Julio González, cop. 1995. - 127 str. : ilustr. ; 22 x 22 cm
Vzpor. katal. in angl. besedilo. - "Libro publicado con ocasión de la exposición "Lawrence Weiner. Obras", del 13 de julio al 17 de septiembre de 1995 en el IVAM Centre Julio González, Valencia." --> v kolofonu
ISBN 84-482-1064-6
7.038.54(73):929Weiner L.
COBISS.SI-ID 796143
5. WEINER, Lawrence
Wind & the willows : iron & gold in the air : dust & smoke on the ground = ijzer & goud in de lucht : stuifmeel & rook op de grond / Lawrence Weiner. - [Antwerpen] : [Openluchtmuseum voor Beeldhouwkunst Middlheim], [1996]. - [28] str. ; 21 cm
Ov. nasl.
ISBN 978-2-930128-03-0
7.038.54(73):929Weiner L.
COBISS.SI-ID 233711
6. WEINER, Lawrence
Lawrence Weiner / [texts] Alexander Alberro ... [et al.]. - London : Phaidon, 1998. - 160 str. : ilustr. ; 29 cm. - (Contemporary artists)
"Lawrence Weiner's art can appear painted across an entire building, floating inside a souvenir pen or sung as a lyric by a country and western band. One of the canonical Conceptual artists of the 1960s, Weiner was among the first to 'dematerialize' the object of art into the realm of language and ideas. He composes texts that describe process, material and structure while evoking a poetic drama that unfolds in the reader's mind. Using a utilitarian yet elegant typeface and stark monochrome or vivid colours, his works have a striking formal beauty. Dedicated to the circulation of art and ideas, a single statement of Weiner's can take the form of myriad media, ranging from paint to stone to video. This book is the first comprehensive survey of an internationally-celebrated artist who continues to compose innovative new commissions around the world. Alexander Alberro, contemporary art scholar and author of numerous texts on Conceptualism, collaborates with writer and art archivist Alice Zimmerman to overview Wiener's extensive oeuvre. Renowned art theorist Benjamin H. D. Buchloh, who has written widely on postwar European and American Art, conducts an interview with the artist. Author of a survey on Minimalism, critic and artist David Batchelor examines the chameleon changes of one work in a range of contexts. The artist has chosen poems by Kenneth Patchen and W. B. Yeats for the Artist's Choice, and for the Artist's Writings he has made a selection of his his own scripts, lectures and previous interviews."--> na ščitnem ov. - Bibliografija: str. 159-160
ISBN 0-7148-3755-5
7.038.54(73):929Weiner L.
COBISS.SI-ID 1282158
7. WEINER, Lawrence
Nach alles = After all / Lawrence Weiner. - New York : Guggenheim Museum Publications ; Berlin : Deutsche Guggerheim, cop. 2000. - [92] str. : ilustr. ; 26 cm
Vzpor. besedilo v nem. in angl. - Ov. nasl. - "Published on the occasion of the exhibition Lawrence Weiner: Nach alles/After all, organized by Lisa Dennison and Nancy Spector with Joan Young, Deutsche Guggenheim Berlin, July 15-October 8, 2000"--> v kolofonu
ISBN 0-89207-232-6
7.038.54(73):929Weiner L.
COBISS.SI-ID 663279
8. WEINER, Lawrence
Lawrence Weiner : made to produce a spark = fatta per produrre una scintilla : Castello di Rivoli, Museo d'arte contemporanea [28 marzo- 30 luglio 2006] / [edited by Carolyn Christov-Bakargiev]. - Torino : Castello di Rivoli, Museo d'arte contemporanea, 2006. - [32] str. ; 21 cm : ilustr.
Vzpor. besedilo v ital. in angl.
7.038.54(73):929Weiner L.
COBISS.SI-ID 311791
9. WEINER, Lawrence
Lawrence Weiner : as far as the eye can see : [Whitney Museum of American Art, New York, 15 November 2007-10 February 2008, The Museum of Contemporary Art, Los Angeles, The Geffen Contemporary at MOCA, 13 April-14 July 2008, K21 Kunstsammlung Norderhein-Westfalen, Düsseldorf, 20 September 2008-4 January 2009] / edited by Ann Goldstein, Donna De Salvo ; essays by Kathryn Chiong ... [et al.]. - Los Angeles : The Museum of Contemporary Art ; New York : Whitney Museum of American Art, cop. 2007. - 411 str. : ilustr. ; 26 cm
Selected solo exhibition: str. 358-361. - Selected group exhibition: str. 362-367. - Bibliografija: str. 368-378
ISBN 978-0-300-12695-2
7.038.54(73):929Weiner L.
COBISS.SI-ID 229359
10. WEINER, Lawrence
As far as the eye can see : eine Ausstelung des Whitney Museum of American Art, New York, und des Museum of Contemporary Art, Los Angeles / Lawrence Weiner ; [Herausgeber Julian Heynen, Stefanie Jansen, Peter Schüller]. - Düsseldorf : Kunstsammlung Nordrhein-Westfalen, 2008. - 92 str. : ilustr. ; 25 cm
ISBN 978-3-926-15495-8
7.038.54(73):929Weiner L.
COBISS.SI-ID 290287
11. WEINER, Lawrence
Written on the wind : Lawrence Weiner drawings : [Museu d'Art Contemporani de Barcelona (MACBA),
8 March-24 June 2013, Stedelijk Museum Amsterdam, 21 September 2013-5 January 2014] / [editor Alice
Zimmerman Weiner ; translations Glòria Bohigas ... et al.]. - Barcelona : Museu d'Art Contemporani de
Barcelona (MACBA) ; Köln : W. König, cop. 2013. - 179 str. : ilustr. ; 31 cm

Besedilo v angl., špan. in katal. - Drugi dodatek k nasl. naveden v kolofonu. - Bibliografija: str. 132-133
ISBN 978-3-86335-319-3
7.038.54(73):929Weiner L.
COBISS.SI-ID 578287