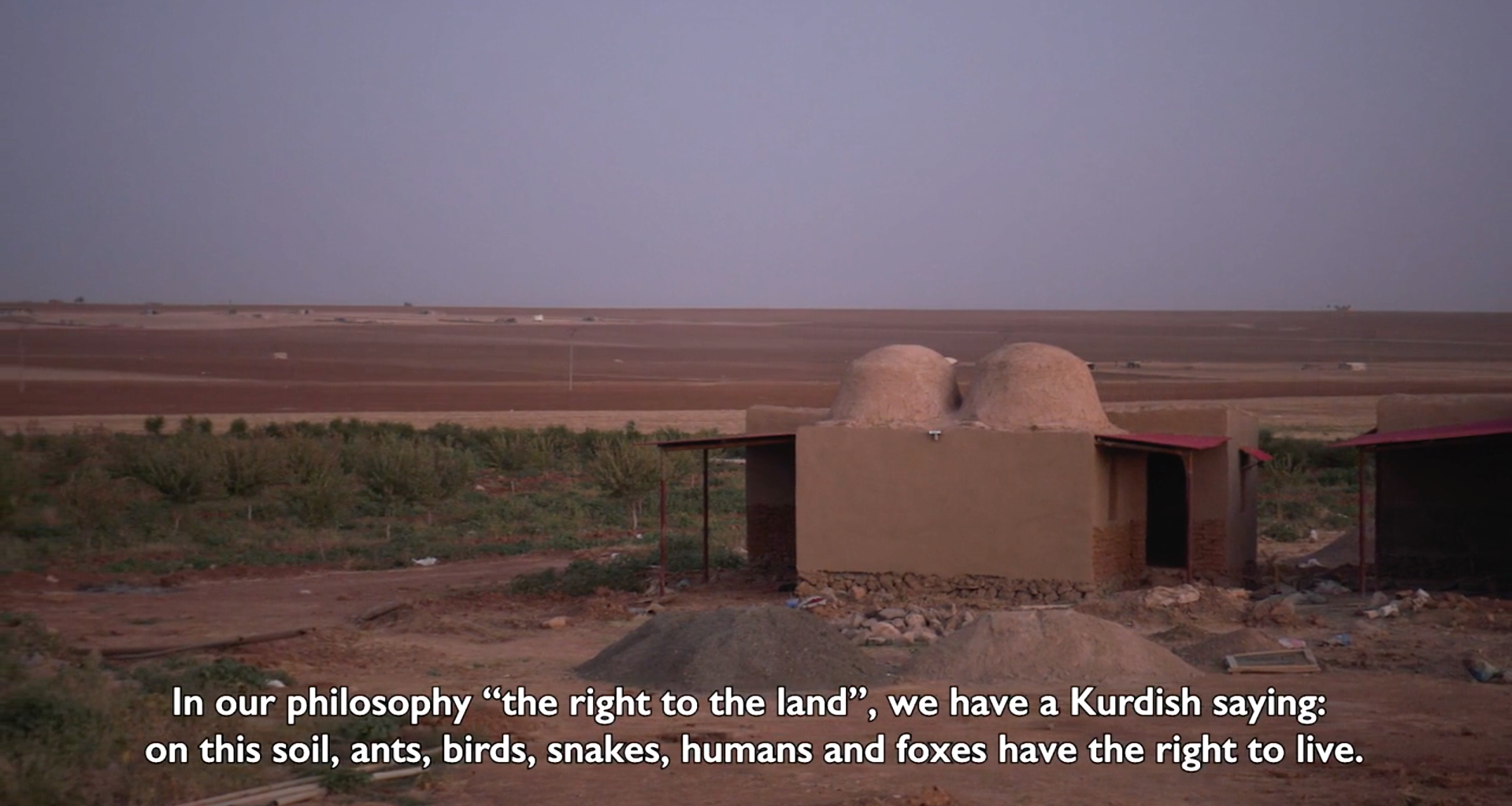 Marwa Arsanios, Who is afraid of ideology - Part 2, maj—avgust 2020 https://www.internationaleonline.org/.
On L'Internationale Online we are organising a special video screening. Between May and August 2020 in morning and evening hours, we recommend viewing Marwa Arsanios's documentary film Who is afraid of ideology, Part 1 and Part 2.
In the film, Arsanios deals with social experiments initiated by women in three war zones: Kurdistan, Rojava, and the Bekaa Valley Cooperative near the Syrian border. Central to these communities is the demand for their own land, which offers the means to survive and creates the conditions for different coexistence.
We recomment L'Internationale Online weekly reading from the Politics of Life and Death research thread, especially a text by Sarp Özer: Defiance of Amphibians: Neology as an Act of Alienation.​
L'Internationale Online is a web platform where the museum confederation sets out lines of research as part of the programme entitled Our Many Europs. This digital platform contains essays on specific subjects written on commission, plus its own artistic and curatorial research, and projects and presentations related to the collections and archives of the various partner institutions. In addition, several lines of research are continued in greater depth under the following headings: Politics of Life and Death, Decolonising Practices, Real Democracy and Alter Institutionality. Under the heading Opinions, a group of bloggers carries on lively discussions on topical subjects. The aim of L'Internationale Online is to present digitally the various research topics to be found in the different activities of L'Internationale. It is a platform in which space is created to emphasise the importance of differences, and at the same time to concentrate on equal exchanges that are locally rooted yet have worldwide connections.
The platform is based on The Uses of Art – The Legacy of 1848 and 1989 programme. The managing editor from 2014 to 2017 in the context of The Uses of Art was curator and critic Nataša Petrešin - Bachelez based in Paris.
Coordinator of online platform Valand Academy, Göteborg University (VA, Göteborg, Sweden) appointed a new managing editor Corina Oprea for the period from 2019 to 2022.
L'Internationale members:
Museum van Hedendaagse Kunst Antwerpen (M HKA, Antwerpen, Belgium)
Moderna galerija (MG+MSUM, Ljubljana, Slovenia)
Van Abbemuseum (VAM, Eindhoven, The Nederlands)
Museo Nacional Centro de Arte Reina Sofía (MNCARS, Madrid, Spain)
Muzeum Sztuki Nowoczesnej w Warszawie (MSNW, Warshaw, Poland)
SALT Research and programs (SALT, Istanbul in Ankara, Turkey)
Museu d'art Contemporani de Barcelona (MACBA, Barcelona, Spain)
Partner institutions:
National College of Art and Design (NCAD, Dublin, Ireland)
Valand Academy, Göteborg University (VA, Göteborg, Sweden)
For more information click http://www.internationaleonline.org.
| | | |
| --- | --- | --- |
| and its partners | | |