Born in Terrassa, Spain, 1946, Eulàlia Grau is a Catalan artist who trained in fine arts, cinema and design in Barcelona and Milan. She also spent a period studying sinology and ethnology, first in Berlin, and then in the early 1990s in the Far East, where she learned Chinese, calligraphy and paper-making. She now lives and works in Barcelona, and currently experiments with the creation of Web pages as a form of art.
Eulàlia started her art production in the last years of Franco's Spain, witnessing and documenting the regime's swansong and the transition towards a democratic and capitalist society, and thus the subsequent shift in values, institutions, and styles of life, while denouncing the persistence of a system built on social inequalities, which perpetuated and even widened social divisions through new mechanisms of control and repression.
Assembling visual materials taken from advertising and the press, she elaborates new forms of communication tools, in which messages and images, once extrapolated from their original context, are then revised, "corrected," and in the end transmitted through an artwork that is above all a radical means of observing reality and an instrument for social intervention. Often referred to as "commentaries" on her time, Eulàlia's media are posters, books, and photographic journals in which the deep and dramatic discrepancies between different social situations and the contradictions of society are visually expressed by sharp contrasts and formal juxtapositions of colors and images. The resulting societal portrait is usually a polarized one, telling the opposite stories of men and women, winners and losers, justice and injustice, rulers and ruled, and the expected and disenchanted realities of consumer society, where the tension is well represented by discordant elements, such as the vertical and horizontal, black and white, colors and no colors, absence and presence.
A feminist and activist in art and life, from the outset Eulàlia challenged the restrictions imposed by a declining regime, establishing herself as an intellectual and pioneering feminist artist, openly denouncing social inequalities and the situation of women. Working in close proximity to the anarcho-communist scene, Eulàlia's works appeared in the anarchist newspaper Black Flag. Organ of the Anarchist Black Cross, as well as other publications and reviews on the feminist struggle and women's rights.
The era in Spain when Eulàlia started her career is crucial to understanding the rich and emblematic body of work she has produced. In the watershed years after Franco's death (1975), Spanish feminism was becoming a structured movement, and the general climate in Catalonia was determined by the intensification of the workers' struggle and demands for civil rights and democratic change. In the background, Spanish artistic production was increasingly abandoning its position of isolation within the European context, with the emergence of Iberian artists and a widespread, rising interest in their work.
Solo shows, selection
– Mai no he pintat àngels daurats / I Have Never Painted Golden Angels, Museu d'Art Contemporàni de Barcelona (MACBA), Barcelona, 2013
– Eulàlia. Klara, Plan B, Tokio /Tokyo, 1985
– Eulàlia. El coste de la vida 77–79, Espacio Alternativo "P", Madrid, 1983
– Eulàlia, Discriminació de la dona, Galeria Nervo Óptico, Porto Alegre, 1980
– Eulàlia. Discriminació de la dona '77, Galeria Ciento, Barcelona, 1979–1980
– Eulàlia 1978. Orden público. Discriminació de la dona, Centre de Lectura de Reus, Tarragona, 1978
– …Inventemos también nosotros… Activitats, Galeria "G", Barcelona, 1976
– Eulàlia. La cultura de la mort (Pintures 75), Sala Vinҫon, Barcelona, 1976
– Eulàlia. Etnografia (Pinturas 73), Sala Vinҫon, Barcelona, 1974
Group shows, selection
– Pop crítico. Collección MSSA, Museo de la Solidaridad Salvador Allende (MSSA), Santiago de Chile, 2016
– Punk. Sus rastros en el arte contemporáneo, Museu d'Art Contemporani de Barcelona (MACBA), Barcelona; Centro de Arte Dos de Mayo (CA2M), Madrid; ARTIUM, Vitoria-Gasteiz (Španija / Spain), 2015–2016
– The EY Exhibition: The World Goes Pop, Tate Modern, London, 2015–2016
– Jo em rebeŀlo, nosaltres existim, potujoča razstava/ traveling exhibition, Katalonija / Catalonia, 2013–2016
– Arte, dos puntos, Museu d'Art Contemporani de Barcelona (MACBA), Barcelona, 2013–2014
– Genealogías feministas en el arte español: 1960-2010, Museo de Arte Contemporáneo de Castilla y León (MUSAC), León, 2012–2013
– Episodis Crítics (1957–2011). Coŀlecció MACBA. Museu d'Art Contemporani de Barcelona (MACBA), Barcelona, 2012
– Muzej afektov / Museum of Affects, Muzej sodobne umetnosti Metelkova (+MSUM), Ljubljana, 2011–2012
– All I Can See is the Management, GASWORKS, London, 2011
– Colección 3. De la revuelta a la posmodernidad (1962–1982), Museo Nacional Centro de Arte Reina Sofia, Madrid, 2010–2013
– Temps com a material, Coŀlecio MACBA, Museu d'Art Contemporani de Barcelona (MACBA), Barcelona, 2009
– Desacuerdos. Sobre arte, políticas y esfera pública en el Estado Español, Museu d'Art Contemporani de Barcelona (MACBA), Barcelona, 2005
– Ideas & Attitudes. Catalan Conceptual Art 1969 > 1981, University of Southampton, Southampton, 1994
– Photography as Art. Art as Photography. An Exhibition from Fotoforum Kassel, potujoča razstava / traveling exhibition,1979–1982
– Other Child Book, Remont Gallery, Varšava/Warsaw, 1979
– Els drets humans, l'Amnistia i l'Art, Fundació Joan Miró, Barcelona, 1976
– Mostra Internacional Tramesa-Postal, Escola Eina, Barcelona, 1974
Born in 1942 in Novi Sad, Yugoslavia (in today's Serbia), Katalin Ladik is an artist, performer, poet, and actress, who currently lives and works between Novi Sad, Budapest, and the Croatian island of Hvar.
Ladik grew up between the end of World War II and the beginning of the socialist era, in a family of laborers belonging to Vojvodina's Hungarian minority, in a context of poverty and precariousness. In the first half of the 1960s she began her artistic career with poetry and acting. In those years she combined a job working as a bank clerk with the writing of surreal and erotic poems in Hungarian. In 1963 she started her collaboration with Radio Novi Sad, where she experimented for the first time with voice and sound. She later became a professional radio actress while training at the Dramski Studio in Novi Sad.
Since the late 1960s, Ladik's artistic research has mostly focused on performance and phonic poetry. Her work covers a wide range of expressions, techniques and genres: visual research, prose, sound and visual poetry, performance art, music and audio plays, theatrical plays, collage, photography, happenings, mail art… But most of all Ladik's work is a constant cross-contamination among genres, her research is experimental, characterized by an unceasing search for new languages and ways of communication, and by giving voice to an open-ended, fluid discourse, not entangled in rigid and canonical schemes.
"Her art is founded on movement, everything is set in motion, in constant flux and transformation," (Marta Dziewańska, 2017); "she is all about movement, change and mutation […] she exists as a subject of multiplicity," (Miško Šuvaković, 2010). Ladik's experimentation continuously challenges the boundaries between genres and disciplines, artistic expressions and techniques. Šuvaković further explains that "her emancipatory force lies in her transgression of existing categories, both as an artist and as a female citizen of Yugoslavia." Her borderless artistic research is thus a metaphor for her activism in art and life, and a parallel can be drawn between freedom in art and in the social realm. In particular, her art is a metaphor for Ladik's struggle for women's identity, for the liberation of women as objects, oppressed by the habits, practices, and demands of a society founded on patriarchy and dominant masculinity. Ladik's feminism – conceived as an artistic practice – is a tool empowering women and their roles in relation with "others". Exteriorization of female sexuality by means of corporeality – the body as an autonomous artistic medium – represents a fundamental element in Ladik's action, in which exotic, para-ritual, and shamanic components also emerge.
In the 1960s and early 1970s Ladik was part of Vojvodina's avant-garde experimental groups, such as the art collectives Bosch+Bosch, Januar i Februar, and KÔD, as well as a member of the Hungarian underground, anti-establishment artistic environments in Budapest.
Through her career, Katalin Ladik has published a number of poetry collections, poly-genre writings, sound-poetry, and music recordings. From 1977 to 1992 she was part of the permanent ensemble of Novi Sad Theatre, where she appeared in Chekov's Three Sisters, Beckett's Happy Days, and Brecht's Mother Courage; she also played various roles on TV and in films. Over the years she has participated in international festivals, retrospectives and exhibitions of visual poetry, taking part in the debate on conceptually-oriented research in poetry. Recently called "the greatest discovery of recent years", Ladik has been awarded several prizes for her artistic and acting work, and in 2016 was awarded the prestigious Lennon Ono Grant for Peace.
Solo exhibitions, selection
– The Voice of a Woman, acb Galéria, Budimpešta / Budapest, 2016
– Why Are You Waiting?, Labor Galéria, Budimpešta / Budapest, 2015
– Roots and Wings, Retrospective Exhibition of Katalin Ladik 1962-2010, Volksbank Galéria, Székesfehérvár, 2011
– The Power of a Woman: Katalin Ladik. Retrospective 1962–2010, Muzej savremene umetnosti Vojvodina, Novi Sad, 2010
– Mladinski centar – galerija, Novi Sad, 1976
– Galerija Studentskog kulturnog centra, Beograd / Belgrade, 1973
Group exhibitions, selection
– documenta 14, EMST – National Museum of Contemporary Art, Atene / Athens, 2017
– Yes, but is performable? Investigations on the Performative Paradox, Künstlerhaus, Gradec / Graz, 2016
– Not-Aligned Modernity / Eastern-European Art and Archives from the Marinko Sudac Collection, FM Centro per l'Arte Contemporanea, Milan, 2016
– Poetics and Politics – Artistic Strategies in the Hungarian Neo-Avant-Garde, espaivisor, Valencia, 2016
– Bookmarks – Hungarian Neo-Avant-Garde and Post-Conceptual Art from the Late 1960s to the Present, Art Cologne, Köln / Cologne, 2015
– Anarchy.Utopia. Revolution, Ludwig Múzeum – Kortárs Művészeti Múzeum, Budimpešta / Budapest, 2014
– The Freedom of Sound. John Cage Behind the Iron Curtain, Ludwig Múzeum – Kortárs Művészeti Múzeum, Budimpešta / Budapest, 2013
– Sounding the Body Electric. Experiments in Art and Music in Eastern Europe 1957-1984, MS2 – Muzeum Sztuki, Lodz, 2012
– Re.Act.Feminism – A Performing Archive, potujoča razstava / traveling exhibition, Tallinn Kunstihoone, Talin / Tallinn; Museet for Samtidskunst, Roskilde (Danska / Denmark); Galerija Miroslav Kraljević, Zagreb; Instytut Sztuki Wyspa, Gdansk; Montehermoso Cultural Centre, Vitoria-Gasteiz (Španija / Spain), 2011-2013
– Kontakt: Conceptual Art from Ex-Yugoslavia, SFU Galleries Simon Fraser University, Vancouver, 2011
– Gender Check, Femininity and Masculinity in the Art of Eastern Europe, Zachęta Narodowa Galeria Sztuki, Varšava / Warsaw; Museum Moderner Kunst Stiftung Ludwig Wien (MUMOK), Dunaj / Vienna, 2009–2010
– Time as Matter, Museu d'Art Contemporani de Barcelona (MACBA), Barcelona, 2009
– Living Art on the Edge of Europe, Krӧller-Müller Museum, Otterlo (Nizozemska / the Netherlands), 2006
– Second International Biennial of Visual and Alternative Poetry in Mexico, Galería Ramón Alva de la Canal, Veracruz (Mehika / Mexico), 1987
– International Art Collection in June, Moderna galerija, Ljubljana, 1985
– Rencontres Internationales de Poésie Sonore, Maison de la Culture, Le Havre; Maison de la Culture, Rennes; Centre Georges Pompidou, Pariz / Paris,1980
– Materializzazione del linguaggio, La Biennale di Venezia, Magazzini del Sale, Benetke / Venice, 1978
– Visual Poetry, Van Gogh Museum, Amsterdam, 1975
– Festival Expanded Media, SKC - Studentski kulturni centar, Beograd / Belgrade, 1975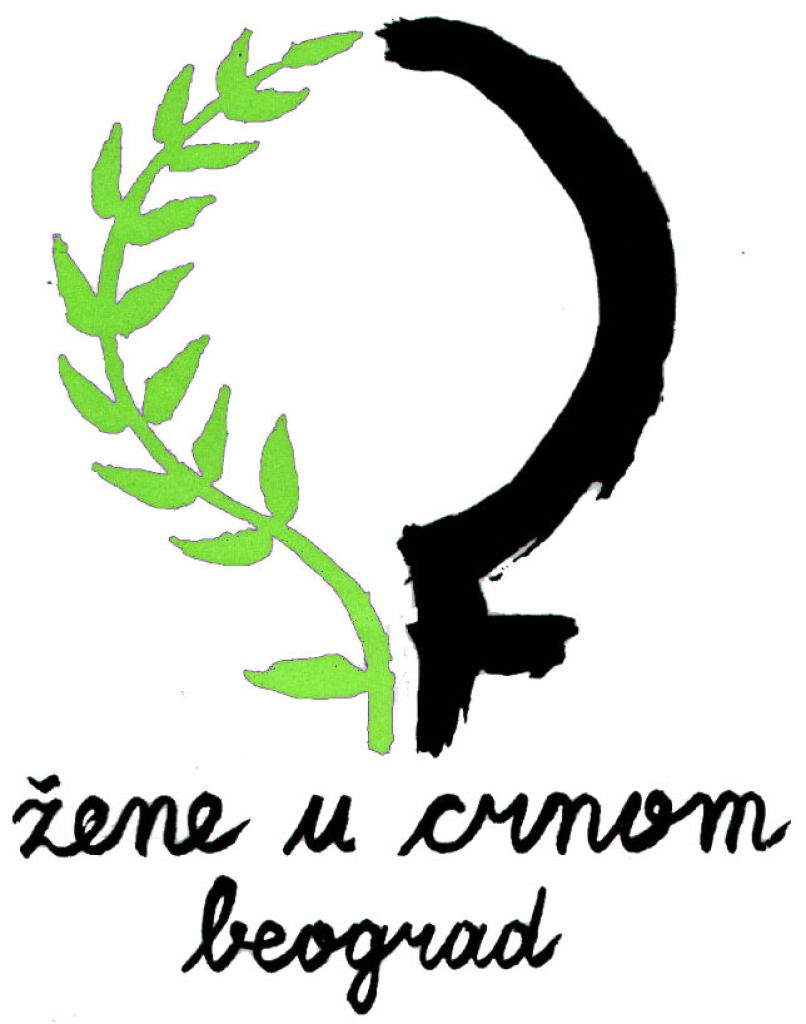 Always disobedient to patriarchy, war, nationalism, and militarism…
Žene u crnom (Women in Black) is a feminist, antimilitarist peace organization based in Belgrade, Serbia, and active since 1991 as part of a larger, global network started in 1988 by a group of Israeli women in Jerusalem, in the context of the First Intifada and the violence in the Occupied Territories. In the early 1990s, the Belgrade group was established as an organization to stand against the growing nationalism and militarism in the region, thus opposing the war and confrontational politics of the Serbian regime.
Their credo and political choice are antimilitarism and nonviolence and their actions are permeated with feminist theory and activism. They define themselves as radically anti-patriarchal, antinationalist, antimilitarist, internationalist, anti-clericalist/antifundamentalist, alter-globalist and anti-homophobic. They thus reject military power, war, sexism, nationalism, patriarchy, violence and discrimination against what is commonly considered "different" in terms of gender, culture, religion, and ethnicity. They advocate a society free of military values, and speak out for recognition of difference and social equality.
Their visible and nonviolent resistance is carried out through participative actions on the street, such as protests, performances, and peace marches. Furthermore, their collaboration with politically engaged artistic groups and theaters – Škart, Dah Theater, The Center for Cultural Decontamination, and The Institute for Engaged Art – led to the formation of an "aesthetic of nonviolent antiwar resistance," enriching their actions with bright colors and visual effects. Their activities also include education on the street, seminars, campaigns, and legislative initiatives addressing important social issues, such as demilitarization, human rights, accountability for war and justice for war crimes.
Žene u crnom's civil disobedience has been mostly directed towards the conflicts and violence during and after the Yugoslav Wars, with protests against the Serbian aggression in Croatia and Bosnia-Herzegovina, the siege of Sarajevo, and the Srebrenica massacre in the first half of the 1990s; and Serbian political aggression in Montenegro, and the persecutions and conflict in Kosovo in the second half of the decade. With the new millennium and the fall of the Serbian regime in October 2000, the group's actions turned to calling for the punishment of war crimes and the trial of those responsible, as well as actions against the rising conflicts in south Serbia and Macedonia (2001), and Kosovo and Serbia (2004). Nowadays they also organize commemorations on the anniversaries of war crimes and visits to the places where they were committed, such as to Vukovar, Sarajevo, Srebrenica, and Kosovo, among other locations. As part of the global pacifist movement they take part in actions against war, terrorism, and conflicts in the Middle East and South America. In recent years they have been expressing solidarity with refugees from wars in the Middle East, alternating peaceful demonstrations with visits and the supply of material aid to reception centers in Belgrade, Subotica, and at border crossings with Hungary.
The three recurring symbols in their actions are the color black, silence, and the body. While wearing black and being silent are generally connected to the impositions on and obligations of women in several cultures around the world, they are here performed as choices, expressing civil disobedience and anti-patriarchal rebellion.
More: http://zeneucrnom.org/