Low-Budget Utopias
Curators: Zdenka Badovinac and Bojana Piškur
Exhibition opening: 26 April 2016 at 8 p.m.
Museum of Contemporary Art Metelkova, +MSUM
19:00: Darinka Pop-Mitić, Useful Idiot
19:20: Julia Klaniczay, presentation of the donation to the Arteast 2000+ collection: György Galántai, Homage to Vera Mukhina
19.40: Tihomir Milovac, Exat 51 and the New Tendencies movement
20.00–21.30: Jasmina Cibic, Show the Land in Which a Wide Space for National Progress is Ensured (performed by Lada Petrovski, Nataša Živković)
TEXT BY THE EXHIBITION CURATORS
Zdenka Badovinac: Low Budget Utopias, 2016
Bojana Piškur: The Metelkova Case: From Army Barracks to Museum of Contemporary Art, 2016
EXHIBITION CONCEPT
The exhibition Low-Budget Utopias presents works that come largely from the Moderna galerija's Arteast 2000+ Collection. This is the eighth installation of the collection in which we develop the notion of the collection as a tool. In the present exhibition we explain the collection and the museum as tools that help to sustain a utopian consciousness.
Art and the museum play an important role in imagining a better society, but they do not simply project their ideas into some undefined future. If we want to maintain the museum's fundamental mission, which, above all, serves human creativity and the common good, and resist pressures to commercialize the museum, then we must develop conditions for utopistics (Immanuel Wallerstein), that is, for exercising our judgement regarding alternative, non-profit-making methods of operation. We might describe the museum as a heterotopia (Michel Foucault), but unlike other heterotopic institutions such as prisons, military barracks, and psychiatric hospitals, which distinguish and insulate themselves from the external reality by specific rules of behaviour, the museum has the capacity to actively reach into the world outside and, in partnership with others outside the institution, even propose changes to the world.
The utopian consciousness, however, is not present in all museums to the same degree and in the same way, but is dependent on concrete social conditions. Our exhibition considers the specific nature of utopias in (post) socialist spaces, in Eastern European art – an art that still works predominantly in low-budget conditions. The Arteast 2000+ Collection speaks about the difference between culture and art, and specifically about the fact that Eastern European art has more to do with the contemporaneous art of other cultures than with defending any "pure" local traditions, a point that needs to be stressed more than ever at a time when certain formerly socialist countries are wrapping themselves in barbed wire in an attempt to protect Christendom and their own cultures. Both the promotion of pure traditions and trading in authentic cultural differences are ideological and marketing illusions, just as the politics of open doors is itself a utopia. When the utopian dream of a world of harmonious differences is collapsing before our eyes, we need to think about otherness as something unappeasable. Slavoj Žižek finds an alternative to the utopia of a harmonious world in the "a-topic" – in an otherness that can have no place in any symbolic order and that establishes itself as "impossible".
With the exhibition Low-Budget Utopias, we ask ourselves what museum model best serves the predominantly poor conditions in which artists and institutions in the post-socialist world must work and at the same time pursues an interest that sets otherness above identity, knowledge production above unambiguous cultural trophies, and the process of becoming above institutionalization. In response, the exhibition offers the utopistic concept of the sustainable museum. Unlike the wealthy, and still for the most part Western, museum, which endlessly accumulates objects from all over the world, the sustainable museum can survive only by constantly developing its own knowledge and combining the emancipatory experiences of its environment with experiences from other parts of the world that today face similar urgent issues.
In Low-Budget Utopias we discover that the low-budget work conditions experienced both by our own museum and by artists in the regions covered by our collection are continually imposing themselves on us as something permanent and that, to overcome them, we must find the potential that exists within these same conditions – without, however, actually consenting to them.
LIST OF ARTISTS
Marina Abramović | Igor Anđelić | Miroslav Bałka | Đorđe Balmazović | Jože Barši | Walter Benjamin | Luchezar Boyadjiev | Jasmina Cibic | Vuk Ćosić | Josef Dabernig | Juraj Dobrović (participant in the New Tendencies movement) | EXAT 51 (Bernardo Bernardi, Zdravko Bregovac, Vlado Kristl, Ivan Picelj, Zvonimir Radić, Božidar Rašica, Vjenceslav Richter, Aleksandar Srnec, Vladimir Zarahović) | Stano Filko | Vadim Fishkin | Božidar Flajšman | György Galántai | Gorgona | Egon March Institute | Ion Grigorescu | Dmitry Gutov | Jenny Holzer | IRWIN | Janez Janša & Janez Janša & Janez Janša | Zmago Jeraj | Ilya & Emilia Kabakov | Staš Kleindienst | Komar & Melamid | Neven Korda Andrič | Andreja Kulunčić (& Ibrahim Ćurić, Said Mujić, Osman Pezić) | Vladimir Kupriyanov | Laibach | Kazimir Malevich | David Maljković | Saša Marković Mikrob | Paul Neagu | Ivan Moudov | Neue Slowenische Kunst (NSK) | New Collectivism​ | OHO | Anatoly Osmolovsky | Tanja Ostojić | Alen Ožbolt | Adrian Paci | Marko Peljhan | Ivan Picelj (participant in the New Tendencies movement) | Alenka Pirman | Zora Plešnar | Tadej Pogačar & The P.A.R.A.S.I.T.E. Museum of Contemporary Art | Darinka Pop-Mitić | Uroš Potočnik | Marjetica Potrč | Kiril Prashkov | Arjan Pregl | Franc Purg & Sara Heitlinger | Punk Museum | Tobias Putrih | Vjenceslav Richter (participant in the New Tendencies movement) | Arsen Savadov | Sašo Sedlaček | Nedko Solakov | Aleksandar Srnec (participant in the New Tendencies movement) | Mladen Stilinović | Tone Stojko | Škart | Jane Štravs | Krassimir Terziev | Slaven Tolj | Goran Trbuljak | Vinko Tušek | Josip Vaništa | Sašo Vrabič | Konstantin Zvezdochotov | Dunja Zupančič :: Miha Turšič ::Dragan Živadinov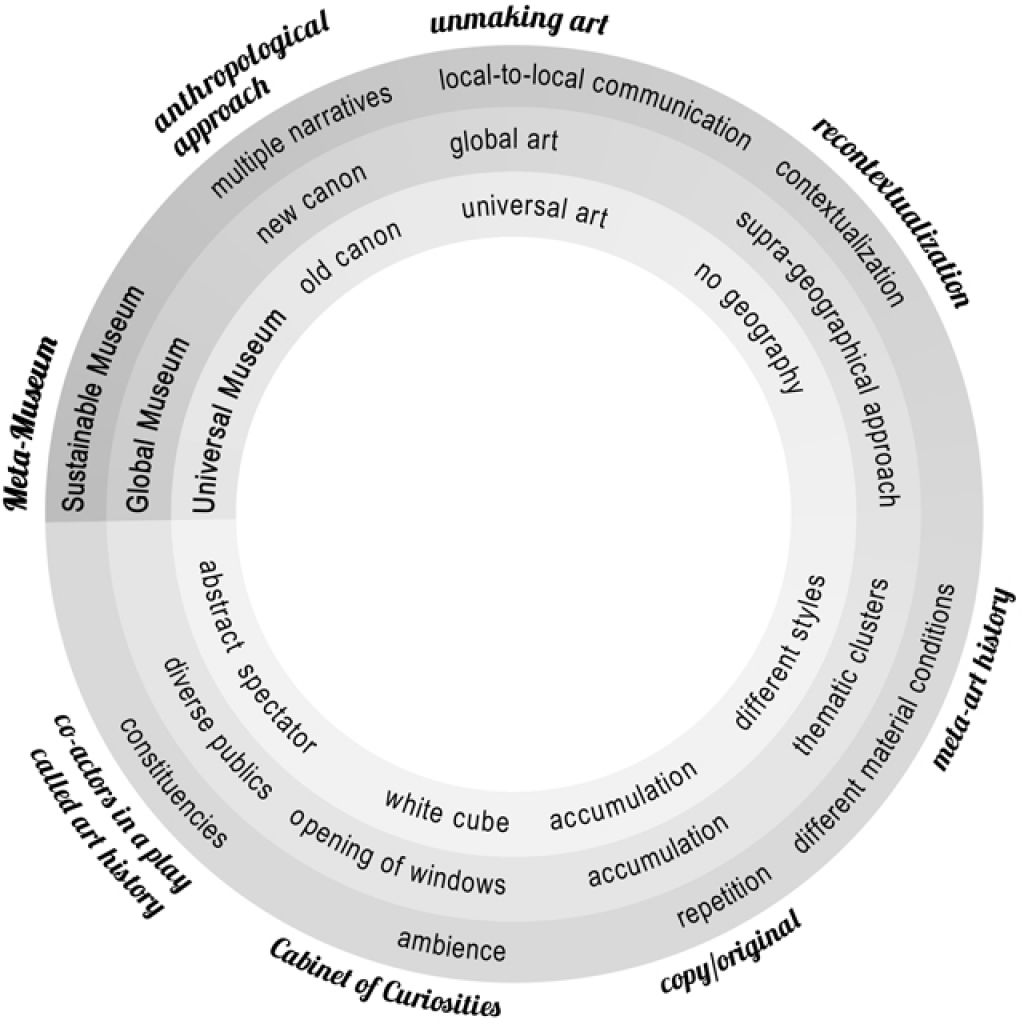 ___________________________
Image: Saša Marković Mikrob: Masks, 1993/94, private collection.
Image: Saša Marković Mikrob: Masks, 1993/94, private collection.
Ivan Kožarić, Gorgona n. 5, 1961, Moderna galerija's international collection Arteast 2000+.
György Galántai, Homage Veri Mukhini, A performance with the participation of Julia Klaniczay and Guglielmo Achille Cavellini Heroes' Square, Budapest, May 1980, Photo by György Hegedűs
Victor Vasarely, Gorgona n. 4, 1961, Moderna galerija's international collection Arteast 2000+.
Zmago Jeraj, Krivoustneži, okoli 1996, Moderna galerija's national collection. Photo: Matija Pavlovec.
Josip Vaništa, Gorgona, anti - magazine, n. 1, 1961, Moderna galerija's international collection Arteast 2000+.
Vinko Tušek, Ambient M1, 1971, Moderna galerija's national collection. Photo: Matija Pavlovec.
Zdenka Badovinac: Three Museum Models and Meta-Museum by Walter Benjamin, 2016.