WALTER BENJAMIN
1892 – 1940
The German philosopher and essayist of Jewish descent, member of the Frankfurt School. He dealt mainly with aesthetics and the possition of arts in the modern world. Influenced at neomarksistično aesthetics, theory of mass culture and contemporary art theory.
In 1933 he emigrated to France. In 1940, committed suicide near Spanish-French border for fear of extradition.
MG+MSUM Library keeps the collected works of Walter Benjamin in English translations, which were written over a long period from 1913 to 1940, extensive biographical monograph book about Benjamin's personal archives and the range of other referential books.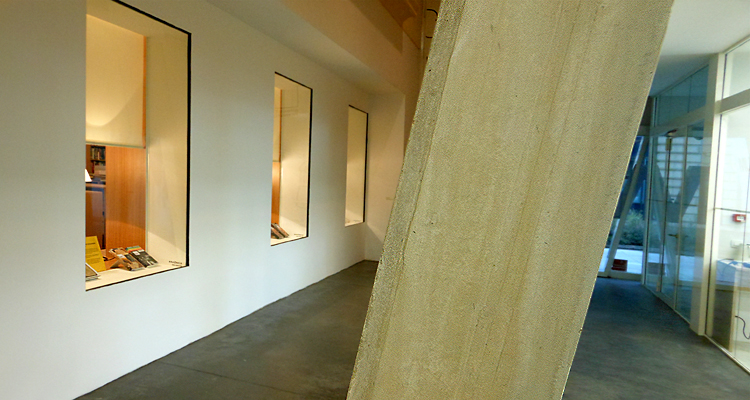 Photo: Zmago Rus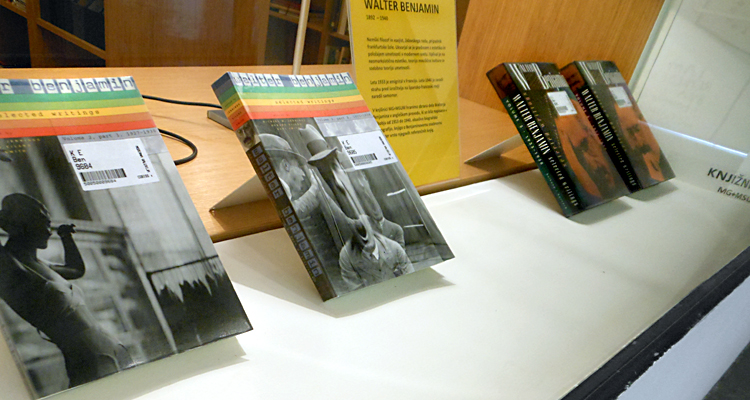 Photo: Zmago Rus
Publications by W. Benjamin available at the MG+MSUM Library:
BENJAMIN, Walter
Estetički ogledi / Walter Benjamin ; izbor, predgovor i redaktura Viktor Žmegač ; prevele Truda Stamać, Snješka Knežević. - Zagreb : Školska knjiga, 1986. - 211 str. ; 21 cm. - (Biblioteka Suvremena misao)
Prevod dela: Gesammelte Schriften, 1972-1982. - Bibliografija na dnu strani in biobibliografija: str. 205-207. - Kazalo
COBISS.SI-ID 19903744
BENJAMIN, Walter
The correspondence of Walter Benjamin : 1910-1940 / edited and annotated by Gershom Scholem and Theodor W. Adorno ; translated by Manfred R. Jacobson and Evelyn M. Jacobson. - Chicago ; London : The University of Chicago Press, 1994. - XXII, 651 str. : ilustr. ; 24 cm
Prevod dela: Briefe 1, 1910-1928 und Briefe 2, 1929-1940. - Kazalo
ISBN 0-226-04237-5 (trda vezava)
COBISS.SI-ID 778735
BRODERSEN, Momme
Walter Benjamin : a biography / Momme Brodersen ; translated by Malcolm R. Green and Ingrida Ligers ; edited by Martina Derviş. - London ; New York : Verso, 1996. - XVI, 334 str. : ilustr. ; 24 cm
Prevod dela: Spinne im eigenen Netz : Walter Benjamin : Leben und Werk. -.Selected bibliography: str. 315-319. - Kazalo
ISBN 1-85984-967-9
COBISS.SI-ID 778479
BENJAMIN, Walter
One-way street and other writings / Walter Benjamin ; translated by Edmund Jephcott and Kingsley Shorter. - London ; New York : Verso, 1997. - 392 str. ; 22 cm
Vsi prevedeni teksti so iz dela: Gesammelte Schriften. - Introduction / Susan Sontag: str. 7-28. - Bibliografija: str. 387-388. - Kazalo
ISBN 1-85984-197-X
COBISS.SI-ID 12324411
BENJAMIN, Walter
Selected writings. Vol. 1, 1913-1926 / Walter Benjamin ; edited by Marcus Bullock and Michael W. Jennings. - 6. ponatis. - Cambridge (Mass.) ; London : The Belknap Press of Harvard University Press, 2004. - VII, 520 str. : ilustr. ; 25 cm
Prevod dela: Gesammelte Schriften. - Kronologija 1892-1926: str. 490-515. - Kazalo
ISBN 0-674-94585-9 (trda vezava)
ISBN 0-674-01355-7 (broš.)
COBISS.SI-ID 5809197
BENJAMIN, Walter
Selected writings. Vol. 2. Pt. 1, 1927-1930 / Walter Benjamin ; edited by Michael W. Jennings, Howard Eiland, and Gary Smith ; translated by Rodney Livingstone and others. - 1st pbk. ed. - Cambridge (Mass.) ; London : The Belknap Press of Harvard University Press, 2005. - VII, 410 str., [52] str. : ilustr. ; 25 cm
Prevod dela: Gesammelte Schriften. - Kronologija 1827-1934. - Kazalo
ISBN 0-674-01588-6 (broš.)
COBISS.SI-ID 778991
BENJAMIN, Walter
Selected writings. Vol. 2. Pt. 2, 1931-1934 / Walter Benjamin ; edited by Michael W. Jennings, Howard Eiland, and Gary Smith ; translated by Rodney Livingstone and others. - Cambridge (Mass.) ; London : The Belknap Press of Harvard University Press, 2005. - VII, 413-870 str. : ilustr. ; 24 cm
Prevod dela: Gesammelte Schriften. - Kronologija 1927-1934: str. 823-856. - Kazalo
ISBN 0-674-01746-3 (broš.)
COBISS.SI-ID 1232781
BENJAMIN, Walter
Selected writings. Vol. 3, 1935-1938 / Walter Benjamin ; edited by Howard Eiland and Michael W. Jennings ; translated by Edmund Jephcott, Howard Eiland and others. - Cambridge (Mass.) ; London : The Belknap Press of Harvard University Press, 2002. - VI, 462 str. : ilustr. ; 24 cm
Kronologija 1935-1938: str. 417-447. - Prevod dela: Gesammelte Schriften. - Kazalo
ISBN 0-674-00896-0 (trda vezava)
COBISS.SI-ID 780015
BENJAMIN, Walter
Selected writings. Vol. 4, 1938-1940 / Walter Benjamin ; edited by Howard Eiland and Michael W. Jennings ; translated by Edmund Jephcott and others. - Cambridge (Mass.) ; London : The Belknap Press of Harvard University Press, 2003. - VI, 477 str. : ilustr. ; 24 cm
Kronologija 1938-1940: str. 427-447. - List of writings in volumes 1-4: str. 448-463. - Prevod dela: Gesammelte Schriften. - Kazalo
ISBN 0-674-01076-0 (trda vezava)
COBISS.SI-ID 780271
BENJAMIN, Walter
Enosmerna ulica / Walter Benjamin ; prevedel Slavo Šerc. - Ljubljana : Študentska založba, 2002 (Ljubljana : Pleško). - 127 str. ; 20 cm. - (Knjižna zbirka Koda)
Prevod dela: Einbahnstraße. - V notranjem svetu / Dušan Šarotar: str. [101]-110. - Marginalije o življenju in delu Walterja Benjamina / Slavo Šerc: str. [111]-127
ISBN 961-6356-34-8
COBISS.SI-ID 117760256
BENJAMIN, Walter
Izbrani spisi / Walter Benjamin ; [prevedli Frane Jerman ... [et al.] ; spremna beseda Bratko Bibič in Lev Kreft]. - 2. natis. - Ljubljana : Studia humanitatis, 2003 (Medvode : Fleks). - 240 str. : ilustr. ; 20 cm. - (Studia humanitatis)
Prevod del: Trauerspiel und Tragödie ; Die Bedeutung der Sprache in Trauerspiel und Tragödie ; Über Sprache überhaupt und über die Sprache des Menschen ; Allegorie und Trauerspiel ; Zum Bilde Prousts ; Kleine Geschichte der Photographie ; Das Kunstwerk im Zeitalter seiner technischen Reproduzierbarkeit ; Der Flaneur ; Über den Begriff der Geschichte. - Mračna teorija in presojno upanje / Bratko Bibič, Lev Kreft: str. 227-240. - Bibliografija z opombami na dnu str.
ISBN 961-6262-10-6
COBISS.SI-ID 126412800
BENJAMIN, Walter
Walter Benjamin's archive : images, texts, signs / edited by Ursula Marx ... [et al.] ; translated by Esther Leslie. - London ; New York : Verso, cop. 2007. - 310 str. : ilustr. ; 24 cm
Prevod dela: Walter Benjamins Archive : Bilder, Texte und Zeichen. - Bibliografija: str. 309-310. -
ISBN 978-1-84467-196-0 (trda vezava)
COBISS.SI-ID 73455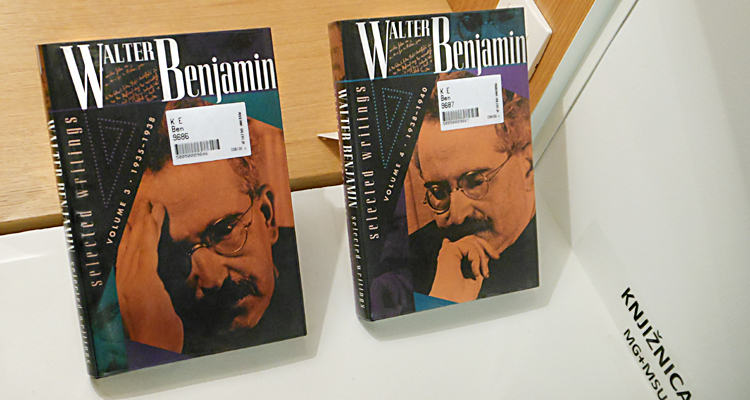 Photo: Zmago Rus
Publications W. Benjamina available at the MG+MSUM Library with contributions of W. Benjamin:
ART after modernism : rethinking representation / edited and with an introduction by Brian Wallis ; foreword by Marcia Tucker. - New York : The New Museum of Contemporary Art ; Boston : D.R. Godine, 1988. - XVIII, 461 str. : ilustr., fotogr. ; 24 cm. - (Documentary sources in contemporary art)
Bibliografija: str. 435-445. - Kazalo
ISBN 0-87923-563-2 (hbk)
ISBN 0-87923-564-0 (pbk)
COBISS.SI-ID 513775
ART in modern culture : an anthology of critical texts / edited by Francis Frascina and Jonathan Harris. - London : Phaidon, 1992. - 341 str. : ilustr. ; 25 cm. - (An Open University set book)
Opombe z bibliografijo na koncu nekaterih prispevkov. - Kazalo
ISBN 0-7148-2840-8
COBISS.SI-ID 564078
CADAVA, Eduardo
Words of light : theses on the photography of history / Eduardo Cadava. - Princeton (N.J.) ; Chichester : Princeton University Press, cop. 1997. - XXX, 173 str. : ilustr. ; 24 cm
Bibliografija: str. 157-167. - Kazalo
ISBN 0-691-00268-1
COBISS.SI-ID 1299054
LAND and environmental art / [edited by Jeffrey Kastner ; survey by Brian Wallis]. - London : Phaidon, 1998. - 304 str. : ilustr., fotogr. ; 30 cm. - (Themes and movements)
Bibliografija: str. 298-300. - Kazalo
ISBN 0-7148-3514-5
COBISS.SI-ID 810372
The VIENNA school reader : politics and art historical method in the 1930s / edited by Christopher S. Wood. - New York : Zone Books, 2000. - 485 str. : ilustr. ; 24 cm. - Bibliografija: str. 73-81
ISBN 1-890951-14-5 (trda vezava)
COBISS.SI-ID 45571329
The PHOTOGRAPHY reader / edited by Liz Wells. - London ; New York : Routledge, 2003. - XXII, 466 str. : ilustr. ; 26 cm.- Opombe z bibliografijo ob posameznem prispevku. - Kazalo.
ISBN 0-415-24661-X (pbk)
COBISS.SI-ID 1289819
ECSTASY : in and about altered states / organized by Paul Schimmel with Gloria Sutton ; edited by Lisa Mark ; essays by Carolyn Christov-Bakargiev ... [et al.]. - Los Angeles : The Museum of Contemporary Art, cop. 2005. - 252 str. : ilustr. ; 28 cm
ISBN 0-914357-91-3
COBISS.SI-ID 1640304
The ARCHIVE / [edited by Charles Merewether]. - London : Whitechapel ; Cambridge (Mass.) : The MIT Press, cop. 2006. - 207 str. ; 21 cm. - (Documents of contemporary art)
Urednik naveden na vzpor. nasl. str. - Bibliografija: str. 197-201. - Kazalo.
ISBN 978-0-262-63338-3 (The MIT Press)
ISBN 978-0-85488-148-2 (Whitechapel)
COBISS.SI-ID 83183
COLOUR / [edited by David Batchelor]. - London : Whitechapel Gallery ; Cambridge (Mass.) : The MIT Press, cop. 2008. - 238 str. ; 21 cm. - (Documents of contemporary art)
Urednik naveden na vzpor. nasl. str. - Opombe z bibliografijo na koncu posameznih prispevkov. - Kazalo.
ISBN 978-0-262-52481-0 (The MIT Press)
ISBN 978-0-85488-160-4 (Whitechapel Gallery)
COBISS.SI-ID 2517358
BRECHT, Bertolt
Zgodbe gospoda Keunerja ; Me-ti. Knjiga obratov / Bertolt Brecht. Poskusi o Brechtu / Walter Benjamin ; [prevod vseh del Amalija Maček]. - Ljubljana : Studia humanitatis, 2009 ([Ljubljana] : Studio print). - 354 str. ; 20 cm. - (Studia humanitatis)
Prevodi del: 1. Geschichten vom Herrn Keuner ; 2. Me-ti. Buch der Wendungen. 3. Versuche über Brecht
ISBN 978-961-6798-02-0
COBISS.SI-ID 248025088
RUINS / [edited by Brian Dillon]. - London : Whitechapel Gallery ; Cambridge (Mass.) : The MIT Press, 2011. - 237 str. ; 21 cm. - (Documents of contemporary art)
Bibliografija: str. 228-231. - Kazalo
ISBN 978-0-262-51637-2 (The MIT Press)
ISBN 978-0-85488-193-2 (Whitechapel Gallery)
COBISS.SI-ID 446703
ESTETIKA in politika / Adorno ... [et al.] ; [prevod Jaša Drnovšek, Rok Benčin ; spremna beseda Rok Benčin]. - Ljubljana : Studia humanitatis, 2013 ([Ljubljana] : Studio print). - 308 str. ; 20 cm. - (Studia humanitatis)
Prevod dela: Aesthetics and politics. - Reprezentacija, formalizacija, produkcija / Rok Benčin: str. 279-297. - Vsebuje tudi ponatise besedil v prevodu Slava Šerca, Toma Virka in Amalije Maček. - Bibliografija: str. 299-304. – Kazalo
ISBN 978-961-6798-39-6
COBISS.SI-ID 269769728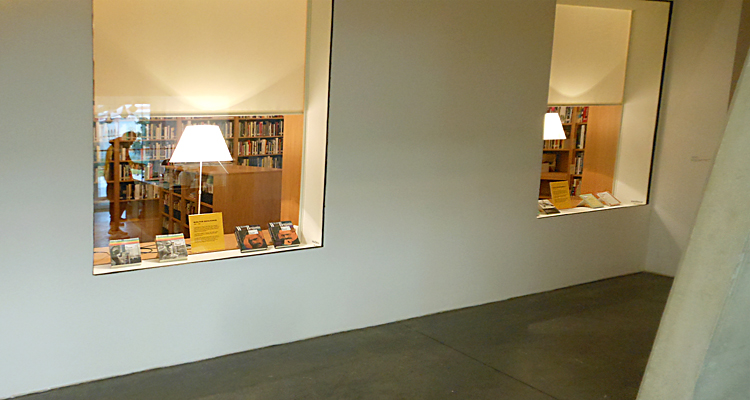 Photo: Zmago Rus
Photo: Zmago Rus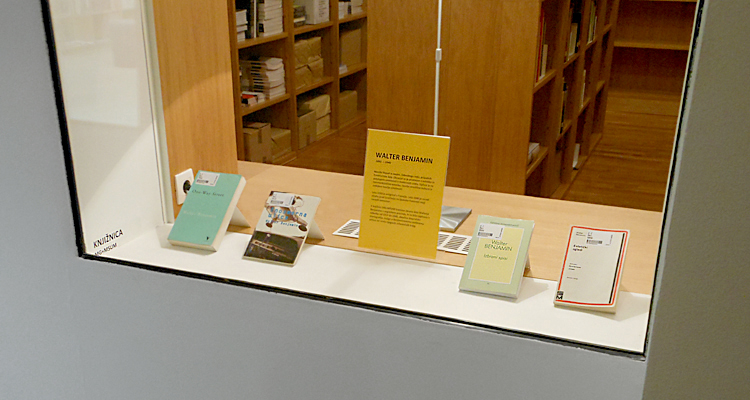 Photo: Zmago Rus